Tomorrow, Americans across the country will travel through rain, sleet and, snow to gather with their loved ones, give thanks for their fortunes, and ... stuff their faces with bacon-wrapped turkey, gravy-drenched roots, and whipped-cream-dolloped pumpkin pie.
Thanksgiving is, nowadays, almost inextricably tied to gluttony—and not just the gustatory kind, either, as the growing number of shopping days (Black Friday, Small Biz Saturday, Cyber Monday) surrounding the holiday can attest. But Thanksgiving—
more than gorging on a bunch of stuff
—gives us a chance to reflect on the many more ephemeral things that enrich and bring pleasure to our lives. Thing like friendship and art and music and ... architecture.
From a modern museum to a jungle gym to ... a sleek parking garage? ... these are the structures that have shaped, influenced, and inspired the Architizer staff: the architecture that we are thankful for.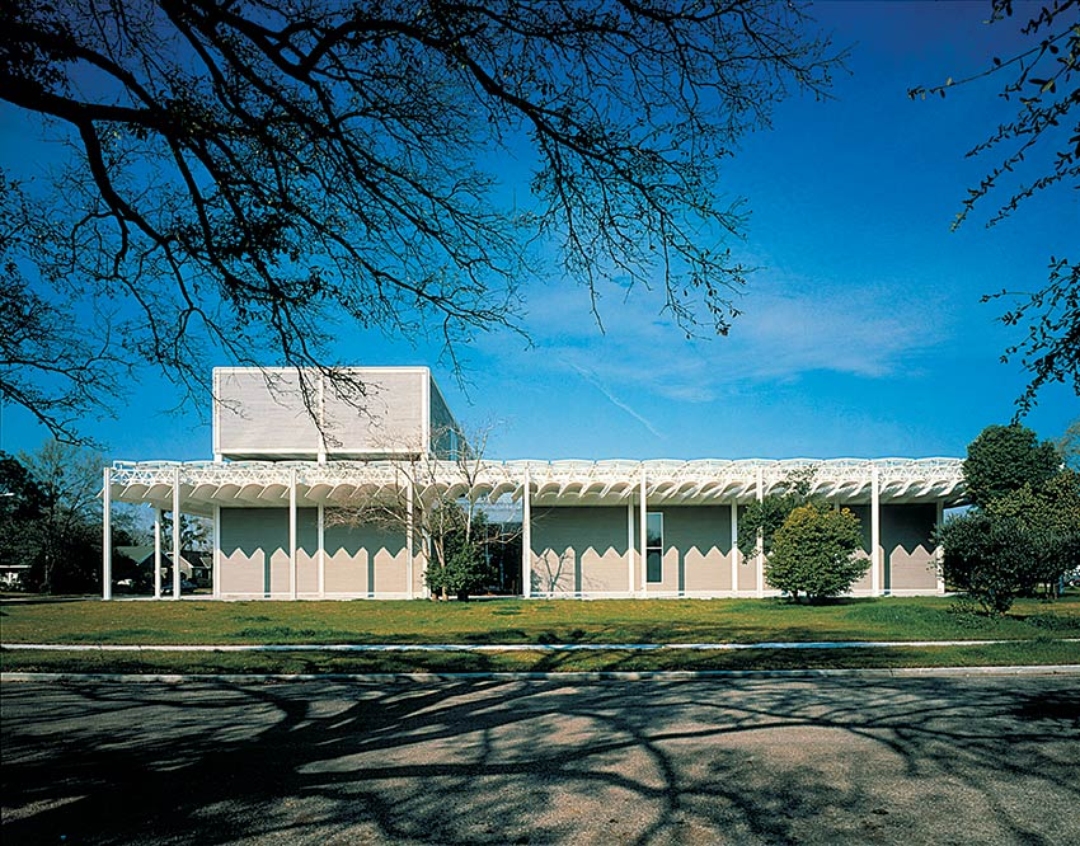 Photo: Paul Hester
The Menil Collection in my hometown of Houston represents the first commission by Renzo Piano in the US, which speaks to the adventuresome spirit and distinguished eye of the city's unexpected culture of progressive art patronage. In contrast to the current global rage for ostentatious museums intended to rebrand entire metropolitan regions, the Menil's low-slung profile and sidewalk-level entry pays deference to its surrounding neighborhood of bungalows. Inside, Piano implemented an ingenious roof lighting system that softly illuminates an art collection that's even more surreal than images of the city's exurbs.
- Steven Thomson, Social Media Manager
This strange sci-fi contraption, named the
Pipehenge
, was entrenched in my childhood both as a playground (clearly, I was a jungle gym girl), and more important, as a stepping stone to a curiosity in astronomy. Developed by Kiwi Eric Jackson, the steel structure is a hybrid sundial/observatory/climbing-
frame that helps orient a person around the sky using their own body. My particular primary school had two of these on its grounds. I had never quite realized how unusual that was until now.
-
Alex Garkavenko
, Content Coordinator
Courtesy Dion Neutra, Architect, and UCLA Special Collections, Young Research Library, Neutra Papers
When I first moved to the US I was lucky to be involved in a documentary on
Windshield
, a lesser-known Richard Neutra house built on Fisher Island for John Nicholas Brown. The process was an amble through the creative spirit of the time, the subtleties and differences of the mindsets of East & West coasters, and ultimately the process whereby Neutra was working to reconcile a number of agendas: social, creative, technological, and other. The house, which burnt to the ground in 1973, was sadly never photographed by Julius Shulman, itself a lesson in the importance of documentary and photography to architecture. Thanks, Windshield.
-
Peter Gerber
, CCO
Photo: Rainer Walter Schmied
Antoni Gaudí is my favorite architect; his outstanding ability to create and innovate in each aspect of his job is an inspiration. La Sagrada Familia it is an example of his level in creativity, innovation, and execution. (And from the city I'm lucky to call home: the Chrysler Building. While I love the Village and all its brownstones, there is nothing that says New York like the Chrysler.)
- Daniel Chang, VP of Engineering
1111 Lincoln
so much. Like Miami, my hometown, the structure is a complete and utter contradiction. Designed like a house of cards, the concrete material opposes the structure's fragile shape and razor sharp angles. Made entirely out of intersecting concrete beams, Herzog [of
Herzog + de Meuron
]
described it as pure Miami Beach—"all muscle, no cloth." In the end, the building represents my favorite things about a city I miss and a direction I'm glad it's heading in.
-
Luna Bernfest
, Marketing Manager
Photo: Leslie Williamson
The perfect house is one which is generous with light, modest in size, has nooks and contemplative spaces, and does not act as a barrier to nature but collaborates with it. I would like to live for a while in
J.B. Blunk's house
, designed and built by himself and Nancy Waite.
- Catherine Finsness, Project Coordinator
Truffle
. Here,
Ensamble Studio
makes architecture out of the process. They pour concrete into roughly piled dirt and hay. They let a cow excavate the site. The final product feels like the result of it's creation. It is imbued with a warmth that yields from the time time it took to make it and the visitor can read that process in the folds and indentations of the concrete.
It is romantic, it is beautiful, it is unexpected. And there is a cow involved. What's not to love!?
- Marc Kushner, CEO
My building is the
Scrovegni Chapel
in Padua, Italy. I love it for how unassuming it looks on the outside and how intricately the inside is decorated. The building has a great story behind it as the man who commissioned the chapel was trying to obtain absolution after his father appeared in the depths of hell in Dante's Interno. I am thankful that today people can visit the small chapel and learn the fascinating history behind the building itself and the paintings within.
- Julie Glass, Lead Development Coordinator
Lisa Frank Factory
is situated in Tucson, Arizona. Founded as the corporate headquarters of every sleepover ever, it is essentially a simulacrum of being a 13-year-old girl. The founder, Lisa Frank, never grants interviews, but when she does, she stipulates that her face be SHROUDED in darkness. She also denies
any
public tours and reportedly "never leaves" her "compound." Dear Lisa, If you're reading this (and recruiting for an all girl underground army) I can be reached at
Katherine@architizer.com
. I'm ready, willing, and proficient in Adobe programs.
Honorable Mentions: the fictional land of Narnia, the entire landscape of the internet, and the Checkers on Marcy Avenue that has never once betrayed me. I love all of you so much.
-
Katherine Wisniewski
, Marketing Coordinator and Sometimes Contributor
I'm thankful for Gordon Bunshaft's
Beinecke Rare Books Library
. Even though the skin of the building is only one and a quarter inches thick, for me the process of crossing the threshold has always been a transformative and thrilling experience. Thanks to the translucency of thinly sliced sheets of white Vermont marble on an expertly engineered Vierendeel truss, the stark, geometric stone exterior becomes a golden, etherial interior that dramatically highlights the treasure at its core: a six-story column of rare books. Presented spines out, behind glass, the books represent a modern day Tower of Babel, a cathedral to our inheritance of knowledge. This building took dusty old books out of the stacks and gave them a new life infused with drama and meaning, and for that I will always be grateful.
- David Weber, COO
Ochre Court
, built by my favorite architect Richard Morris Hunt. Not only have I had amazing memories with friends here, the former home is beautifully crafted inside and out. Sometimes I would just walk around the building to look at the details, particularly the grand stairwell in the main hall, chandeliers, and fireplaces. It was also exciting to roam the halls and think of the conversations that took place there.
- Matthew Miller, Digital Advertising Coordinator
Israeli Supreme Court Building
for the first time on a trip to Israel when I was 17. I always knew I was interested in architecture, but seeing this building in person pushed me over the edge. The combination of sleek glass with ancient Jerusalem stone opened my eyes to an eclectic style of architecture I didn't know was possible without being tacky. Not only do the materials represent the juxtaposition of old and new, the building's physical positioning on its site follows ancient roads that cut through the center of Jerusalem and serve to separate departmental functions within the space.
-
Jonah Kaplan
, Sales Manager
Quadrant Bookmart and Coffee House
, in Easton, Pennsylvania, in the Lehigh Valley where I grew up. The building is embellished with a kind of ornamentation that suggests the city's prosperous history in the mid-1800s, which can be seen on many of the neighboring brownstones on a block known as "Millionaire's Row." During the second half of the 20th century, downtown Easton went into a stark decline with the closing of the Bethlehem Steel Corporation. However, during my teenage years, the city invested in reviving businesses and preserving its bounty of colonial and revivalist architecture. Hence, the Quadrant, the small coffee house and used book store inside 20 N. 3rd St, where I spent a significant part of my adolescence coping with small-town teen angst. Plus, I felt a certain resonance its its ivy-covered walls, ornate façade, and aged brick.
-
James Bartolacci
, Staff Writer
Brooklyn Bridge
. One of the longest suspension bridges in the world, the Brooklyn Bridge is a feat of human ingenuity, of brain
and
brawn—powerful in its construction and elegant in its design. And it has none of the alienating qualities of some of NYC's other architectural icons. There are no guards barring entry, no fees to amble across and experience its marvels. It is open, inviting, egalitarian, sturdy, forgiving: It is everything I want—and when I walk across it, believe—New York City to be.
-
Raquel Laneri
, Managing Editor